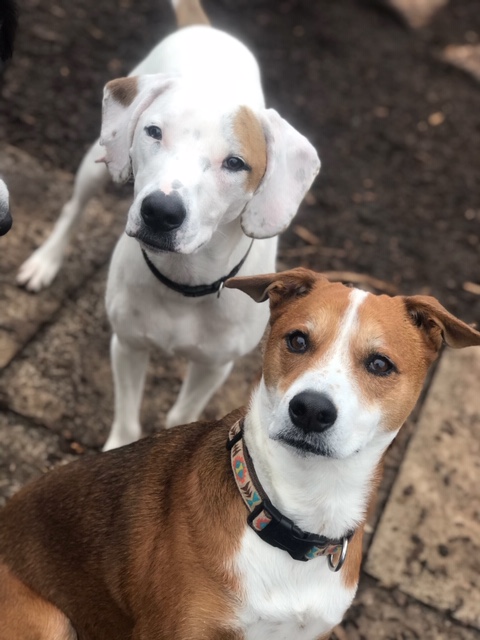 When you have to go out of town, one of your first concerns might be where to board your dog or cat. When searching different kennel facilities, it doesn't take long to realize that not only can boarding your pet be expensive, but in a lot of cases, your pet is confined to a kennel for most of the time.
At Four Paws, our philosophy is simple: we provide a "home away from home" for your dog or cat. Each boarding dog/cat has his/her own spacious kennel with comfortable bedding, fresh food and water.
Pets are fed according to owner instructions. Food is preferably provided by the owner to maintain the pet's dietary needs and curb any unwanted gastric issues due to any sudden change of diet.
However if that isn't possible, for dogs we do offer Iams Mini-chunk, Blue Buffalo ID, a prescription dog food for Sensitive Stomachs, as well as Pedigree for a minimal daily fee.  We do not stock any cat food, only cat treats and catnip.
Although we strive to give your dog the most comfortable kennel possible, he/she will not be spending much time in it. Our boarded dogs, with owner permission and after passing a temperament test with management, have full access, supervised by professional dog handlers, to the indoor and outdoor play areas along with our daily day care dogs, only to be kenneled during feeding, requested naptimes and night time sleeping hours. There are no additional or hidden costs for play time! It's included with the Boarding Fees. Not only does this make your dog happy, but you can feel good knowing that your pet is receiving a lot of additional attention and play time with no added cost to you.
Cats inhabit a quiet room, all their own, residing in separate multi-level cat condos.  Their room is floor to ceiling windows allowing them 24 hour views of the outdoors. Staff tend to congregate in the Cat Room before and after shifts to have some chill time with a cat, which is completely different from being in the dog yards. Staffers enjoy the playtime with cats as much as the yard time with the romping dogs. Even Rob, who is allergic to cats is found daily offering treats to the cats and sitting while they bound around him. Cats with medications are no problem, we facilitate all medications free of charge during your pet's stay.
Some pets require medications be administered throughout their stay. Four Paws administers any and all medications FREE of any charge. All pet medical needs and administration of medications are strictly adhered to, accounted for daily, and are included with the nightly boarding fee.
We offer:
Kennel rooms for small dogs
Kennel rooms for medium/large/extra large dogs
Multi-Level Cat Condos - Private Cat Room
Soundproof rooms
365 days per year
Doggy Interview Process
We all love our pets, and our pets love us! At Four Paws, we ask each new pet to go through an interview process in order to see if the new dog's temperament will mix well with other dogs. We prefer this interview process is accomplished on a day before the boarding date, or the start of doggy day care. We accommodate  interviews by appointment only, 7 days a week, between the hours of 1:15pm and 4:30pm.
During the 10-15 minute interview, we introduce the new pet to one of our regulars in a controlled environment. You will be asked to fill out Four Paws required documents which includes questions regarding your dog's health, history and temperament. In addition, a current Vaccine Boarding Certificate from your Veterinarian is required showing Due Dates for all required vaccines (DHLPP, Bordetella, Rabies). We ask you supply a hard copy from your vet by the first day of boarding and/or day care.  We do not require the Influenza vaccine, however we highly recommend getting it.  All pets must be on a year round Flea & Tick regimen.
Boarding Hours of Operation for Check In and/or Pick Up:
Monday-Friday 
            Check In:    7am – 12n        Pick Up:    10am - 6:30pm
Saturday
            Check In:    8am – 12n        Pick Up:    11am - 6pm
Sunday       
            Check In:    8am – 12n        Pick Up:    11am - 6pm
Note: Drop Off by noon is necessary for staffing purposes. Call to make an appointment for later check in, however no check ins accepted after 430pm daily. It is also preferable dogs check in as early as possible so as to acclimate and sleep better through the night.
RATES:
1 dog              $42 per night  **                          1 cat      $20 per night
2 dogs             $72 per night  **                         2 cats     $35 per night
3 dogs             $92 per night  **                         3 cats     $50 per night
4 dogs             $115 per night  **
    **All Dog Boarding Rates include Doggy Day Care
    **Prices are based on 1 kennel, each add'l kennel add $5 per night
    **Payment in full is due at time of drop off
    **All prices are subject to change without notice
Deposits
A minimum of one night deposit is required to hold any reservation. A deposit guarantees the space held, but not boarding rates.
Cancellation/Changes
Full refunds require 7 day advance cancellation by phone. 
Four Paws reserves the right to retain deposits for reservations cancelled within 7 days of original boarding date. At Management's discretion the remaining funds will either be forfeited or held on account for future use towards any services offered.
Early Pick ups are not refundable. 
Coupons
Coupons must be presented before/at drop off to be honored. They will not be honored at pick up for any services provided during your pet's stay.  Blackout Dates Apply.
Boarding Food Fee
Utilizing Four Paws dog food will incur an additional fee of $4 per day per dog per kennel. No fees will be incurred if the dog's food is provided by the owner. Please provide extra food, in case of delays. We do not want your dog to lose weight. While at Four Paws, being in the play yard burns quite a bit more calories than being at home, so not eating for any more than one day requires us to take action to encourage eating by adding baby food to taste, chicken or beef.  For cats who are not eating, we will take the same type of action to encourage eating.
Please note: All rates and/or deposit amounts are subject to change. Always ask when booking!